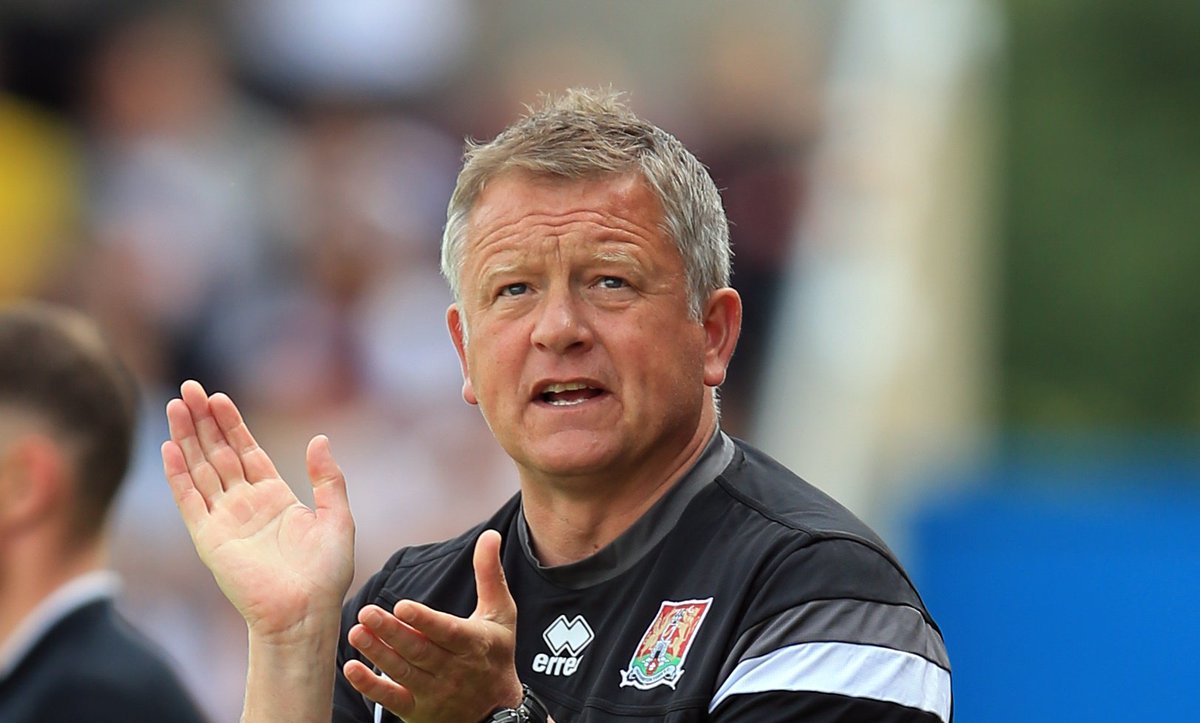 Chris Wilder is the new Blades manager after the club wasted little time in finding a replacement for the departed Nigel Adkins. Wilder has done a great job at Northampton, saving them from relegation and building a Championship winning side on limited resources. Most Blades will be interested in what differences will we see on the pitch at the Lane. 
In terms of playing style Wilder seems to favour 4-2-3-1, but has also used 4-4-2. Northampton have played with high tempo and look to create and choose forward passing options, with quick forward movement into space as soon as they win the ball. Their counter attacking has been a strength. From what I've read, Wilder's playing style seems similar to Leicester's this season.
This article from last summer at Northampton also gives away some clues:
Chris Wilder says his recruitment efforts at Northampton Town this summer have attacking football in mind.

The Cobblers boss, who made former Bury midfielder Nicky Adams his second new signing ahead of the 2015/16 season on Friday, wants his side to play in an eye-catching fashion as he plots promotion from League Two.

Winger Alfie Potter, who was most recently at AFC Wimbledon, was Wilder's first capture and he believes that both new additions will fit in with his philosophy.

"We know the way we want to play, we want a high tempo, high intensity, attacking style that excites the fans," said Wilder to the official site.

"That is the way we play, energetic, forward running with talented players, and we need depth, quality and options to do that for 50 plus games a season.

"We are still developing the team and maybe the fact we have got Nicky has raised a few eyebrows.

"We have worked very hard to get this deal [Adams] done. A lot of work goes on from a lot of people here and we have got it over the line. We know a lot about him, he has won promotions and we feel that is important.

"He knows how to win and he has desire and ambition.

"We are still looking to add and I think a lack of depth let us down a little last season and we want to rectify that this time around.

"I'm delighted with the first two additions.

"They were key men we targeted and we have signed two players who are a good age and suit the way we want to play.

"Technically, mentally and physically they are very good, they have pace, they are creative and it has been a good few days for us."
 I watched Northampton once this season, the cup game against Northwich, in which they struggled, but came back from 0-2 to win 3-2. It was a good cup tie and their enthusiasm was matched on the day, but you could still see what they were aiming to do.
Forward movement is key and while the two central midfielders hold back a lot of the time the front four are continuously trying to find good positions off the ball and making penetrative runs. Full backs overlap as well, especially Buchanan on the left. All players looked fit and mobile. Being an attacking side they struggled a bit when hit on the break.
There was nothing to suggest we'll play "hoof ball".
Personally I'm a lot more optimistic about next season now. Let's hope Wilder is able to identify the right type of players that fits into his system, but also have a bit more ability than what was the case at Northampton. A lot of Blades managers have been tempted to go for names, ex-players and pedigree, but Wilder seems to have a very modern, effective football philosophy and should have confidence in that and add players that suits the style.
What player changes will take place?
Quite a few. That would have been the case with Adkins as well, as many players are out of contract. 
I think Wilder will be signing a target man. He's used one at previous clubs, and the Blades have missed aerial strength and someone to get on the end of crosses this season. I wouldn't rule out Sharp spearheading the attack either, and Northampton did play 4-4-2 in some games. Wilder will also have to bring in a couple of new centre halves, a left back and a couple of strong central midfielders who can play-make as well.
In the 4-2-3-1 the three players behind the striker seem to have played with a lot of freedom, roaming around and making penetrating runs, buzzing around the striker. I think at least a couple of creative, mobile players will be signed for these positions, but maybe Done and Adams could figure as well.