KARL HÅKON BJERKNES vs TONY AGANA
I 2011 fikk jeg en ide om å intervjue Tony Agana i anledning en av mine reiser over for å oppleve Sheffield United live.
Medlemmer av Scandinavian Blades var med på å forme en intervju-guide som skulle danne grunnlaget for samtalen.
Av ulike årsaker fikk jeg aldri fullført nedskriving av intervjuet i 2011 og til slutt tok Lars Erik Bakken fra Drammen på seg jobben.
Takk for hjelpen, Lars Erik!
En stor takk til Tony Agana for at du stilte opp! (A big thanks to you, Tony Agana, for your time at the Copthorne that day)
Enjoy the reading!
4/3-2016
Karl Håkon Bjerknes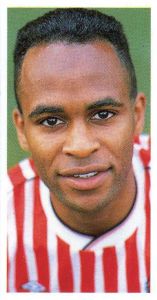 TA: Thank you for taking the time and the effort to come across and to, you know, help spread the name of the Blades around the world, which is what we want. So hopefully, the club will recognize that, and you will always be welcome in Sheffield.
KH: I am trying my best, because there are not many people that support Sheffield United in Norway. They see Arsenal, they see Manchester United on television daily, and read about them in the newspapers. But Sheffield United gets maybe a small column once a week or something. However, it is much easier to spread the word with the internet and you have the Blades Player now.
TA: Absolutely, I mean that's the great thing about technology. It makes the world a little bit smaller. You can engage a little bit more closely with the football clubs, and whatever else you want to engage with.
KH: Yeah, everything is much easier now than let's say fifteen-twenty years ago.
TA: Yeah absolutely. One of the plusses of technology.
KH: Do you have a degree in technology?
TA: Yes. When I retired from football, I had a year thinking what I was going to do next. I decided to go to my local college to take the basic IT course. I have been working with computers since the late 90's, and quite found that I was enjoying it. I went to a course for a whole year full-time study foundation, and then I enjoyed that, and went on to get a full degree at Sheffield Hallam University. In Computer visualisation, so it's about computer graphics.
KH: So it took you 3-4 years to complete?
TA: It was about 4 years. It was 4 years at Hallam, and 1 year foundation. So actually it was 5 years out of football. Just concentrating on studies. Something my mommy always wanted me to do probably 20 years ago. Also, it is something I always wanted to do.
KH: Now you are working with computers daily?
TA: After I graduated, I was working with computers daily for 2 years for the University of Manchester. After that I was working for a private company in Sheffield that makes E-learning. All these platforms were coming out, maybe you have heard of WebCT and Blackboard? Basically, it is technology for education. I had 4 years doing that, in public and in private sector, 2 in each. And then Sheffield United came and asked me if I wanted to come on full-time, and 2 good years at Sheffield United on the Sales team as a Sales Manager. I enjoyed it and made a lot of contacts.
KH: Obviously, you must know many people around the club.
TA: Yeah, in the club and in and around the city. I made a fantastic amount of business contacts while I was working here. So in my opinion it was a good 2 years well spent.
KH: Let's talk a bit about football. In 1990 when Sheffield United played Leicester and were pushing for promotion. How would you describe the tone and the discussion in the dressing room? I have seen it a couple of times, and I just wonder how you experienced the situation.
TA: I have watched the video obviously a couple of times, and it is quite a funny situation. It shows the pressure in a half-time situation in an important match. And what it does to people mentally. You got so much going on and I think it was a non-conversation. I don't think anybody knew what was going on.
KH: No, you see the players go: What's happening now?
TA: Yeah, you could have actually just come in at half-time and nobody said anything, because there was that much going on in each individual's head. Sorting out things that had happened in the first half. That might have been a bit more productive than actually trying to put more information into people's minds. We were stung, we went 1-0 down and all of a sudden, we found ourselves at half-time 4-1 up. I think just the shock of that sort of rendered everybody a little bit speechless and a little bit tinged with madness for those 15 minutes. And when I say everyone, I mean just the manager. It was a non-conversation. Dave Bassett had something in his mind that he wanted to get across. That he felt was important, but probably did not articulate it the way that he normally would in a less pressurized situation. And Geoff Taylor, his number 2, probably thought he knew what Harry was talking about, but didn't. He was thinking about something else. And all of a sudden you have this non-conversation. Add to that that you only have 15 minutes or 10 minutes. You got to spend that time effectively. Then it's rushed as well, so it's not well thought through. You don't have time to think it through, because we were 1-0 down so his half-time talk, you know during the first half he was getting his mind to what he was going to say when we are behind. And all of a sudden we are not only ahead, but we are well ahead. We have almost closed out the game by half-time. But again, that sort of throws his half-time.
KH: It's quite fun to talk about that situation when you are actually 3 goals up. He didn't have to bring it up.
TA: No, he didn't have to say anything. But I think it was the shock and the pressure of the situation. We had to win that game to secure promotion. After how many games we played before, that's pressure. When it all comes down to 1 game, 1 day. The ground is full of your away-fans and you don't want to let them down.
KH: Yeah, there were 10 000 or so from Sheffield?
TA: A fantastic effort. Officially 10 000, probably more.
KH: I just saw the video an hour ago, and the fans were storming out on the pitch. And I was actually amazed by how you managed the situation. They came and they wanted to shake your hand. How did it feel when the fans are storming the pitch?
TA: During the game, it was difficult. The week before, I think Leeds United had played a game and their fans had come on the pitch and there was some trouble after the game. There was an enquiry and before the Leicester game, there were articles in the newspaper saying that Leeds United might be docked points. Because of security trouble. And when I scored, it might have been the fifth, and all our fans came on, I wanted to embrace them, but that came into my mind. So I ended up going: "Get of the pitch". To have come this far, and for them to take it away from us with something like a docked point or whatever. For not being able to control your fans. That would have been terrible. Actually, that was exactly what I thought after I scored that goal. Please don't come onto the pitch. But at the end of the game it was fine. I think we went up on Leeds beating us on goal difference. So it was only marginal, a point deduction would have seen another team going up, I think Newcastle were only a point behind or two points behind. Newcastle could have gone up that day. We could've lost and Newcastle won.
KH: Think about it. You don't have to do much to ruin that. If you went crazy and ran at the supporters maybe more supporters have come.
TA: Yes absolutely, then you would have gotten a situation. Yeah I was thinking just straight after I put it away. I was thinking too rationally probably, I probably should have just enjoyed it. You never know. At the time, it was the way we were, and the way the game was going. It was a strange feeling.
KH: How was the celebration after the game?
TA: Oh, I'll say, it was 3 days long. I think the rest speaks for itself. It was a fantastic few days after that. To secure promotion, we came back here and the car park was full of blades. The coach could barely get through to the ground. And we went upstairs.
KH: I wish I could have been here, but I was only 10 years old.
TA: Hey, don't make me feel old now.
KH: A little bit about managers you have been working with. Neil Warnock bought you from Sheffield United to Notts County in 91, late November. How would you compare Bassett and Warnock as managers?
TA: It is difficult really, because I think player relationship depends on both the player and the manager. So it is a bit difficult to put a manager in a box. To say this is what he is to all players, because he isn't. In terms of my personal situation, Dave Bassett was a fantastic manager and a fantastic motivator. He could get the best out of anyone. He knew people very well. That is an excellent skill to have, a very good people person. Neil knew what he wanted from his teams, from the individual. He had a framework, and he played to that framework. That is what has been successful for him over the years. But he sees personal skills different.
KH: You can be a successful manager being two very different people.
TA: Absolutely, there is not one right or wrong way. You need all skills, Some of those skills will be stronger for one manager than another. What I'm saying is that Bassett's personal skills were top notch, never met anyone like it. For lifting you to a higher level, mentally. Anybody that worked with him, I can't find one person that even if he did drop them or sell them has a bad word to say about him. He was just a different breed, the like of which there probably won't ever be again. Because it was in a time where there was less player power. Managers had power, clubs had power and players got on with it, or they were sent out. That has changed now, and I guess Neil has found a way to change with that. I guess he had to. Because players will just shrug their shoulders and say: Fire the man who is on thousand pounds a week, you can't hurt me, you can't touch me. Neil is still in the game now, so he has had to adapt how he was back then when I was playing, to how he is now. Another strong asset of a manager or a strong characteristic has to be adaptability. As the game changes, he has proven that he has that adaptability. Two different managers. I think both got all the skills that is required. Harry is very strong in what we just talked about and for Neil the adaptability is clearly showing because he is still in the game. Harry is very loyal, if you fall out with Harry then you get back with Harry very quickly, he doesn't see it as football, it's a job, that's it. I think Neil might carry that one longer. Two successful managers, two different sets of managery skills.
KH: Let's talk about the strong squad you were when you got two straight promotions, you were a strong and pacey squad. How much of a weakness is this in the current team?
TA: I don't think it should be an issue these days. I think football talent are more prevalent now than it was when I was playing. Strength, pace and power was essential, especially in this league back in the 80's. Because defenders could tackle you from behind and push you off the ball, and be a bit more physical, and the ref would just tell the player to play on. I watched the game probably in the mid-week, an international where a player has come in from the side, slid, curled his foot around the ball and come around with the ball, and because the player in possession fell over, free kick. A clean tackle, came away with the ball and that is the difference now. For me it is not all about pace and power anymore. It is about pace, yes, pace is essential to the game, because the game has become quicker, a lot quicker. The pace is all over, full-backs have pace, you're centre-halves got pace. Everyone needs pace. Physicality is not as required. I mean look at the best players in the world, look at Messi and Xavi, you know, Silva, Suarez, Tevez. These people are not big, huge, bulking, strong forwards. They are quick, they got a low centre of gravity and they got good skills. That's how the game has changed, and why I don't think that pace and power really is an issue now.
KH: Do we have a squad that is good enough for two straight promotions?
TA: The squad as it is at this moment? No, probably not. Probably needs reinforcing at the back. A settled back four with a Morgan-type in there, to organize it. I think that is all it is, an organizer. Some leadership skills, someone who is not afraid to say it how it is on the park in a pressured situation. The reason we lack that is youth, but with experience that will come. If you have a 19-year old that organize as well, you have the next England centre-half. Usually you build that by playing lots of games. It's not a natural trait, you get that with confidence, with playing and being verbal. Helping out your teammates around you. We got great players, but maybe they are not verbal enough.
KH: Next we have the big question, who would win in a sprint between you, Pemberton and Littlejohn in 91 and now?
TA: Now, it's whoever got the fastest car. I think it would be a walking race for sure. But back in 91 Adrian Littlejohn was absolutely lightning, possibly over 20-30-40 meters. John was one of those quick but be a more power over about 100 meters. He could do it for longer. Myself, I was a bit of both. I could do endurance, so over a 100 meters I would say first place might be Aidy, I think I would be second and I'll put Pembo third. Yeah, Adrian was quick. We had another quick guy, John Francis, he was very quick as well. Not as quick as Aidy. He was lightning wasn't he.
KH: Back to you and Deane. You scored lots of goals together, but it was not just you. What made your partnership with Deane so great? What was the skills that made you so good together?
TA: I think one of the interesting things about our partnership was the fact that it was a partnership that evolved, rather than being forced. By that I mean that Dave Bassett signed me as a left winger and signed Brian Deane as a centre forward. The same year he signed Francis Joseph as a centre forward. Unfortunately, he broke his leg in the very first game of the promotion season 88/89, the first promotion. And I was forced to finish the game up front with Brian Deane. We went on to win that game. I think Brian scored, I don't think I scored, it was Reading away. Keith Curle was centre half for them. We had a game on Tuesday a few days later, and of course no centre forward with Francis having broken his leg. These were the days with a squad of about 15-16 and the rest were kids. So we were the leading men, and we each scored. I had always been a wide left midfielder. I had played a couple of times up front in non-league. And I think I played for Watford upfront a couple of times, for my pace. We were looking to sign another striker. But with us both scoring on the Tuesday and we won, and us both scoring again on Saturday and we won, so it evolved, it just happened out of chance more than desire by Dave Basset. But he recognized it. We clicked, probably for that reason. The expectations of that era was not that strong. Brian knew that I was a wide left and that I had been playing there for a while now. But it turned out that playing with me, he got lots of chances. He enjoyed that well. That went on with us playing up front together, and off pitch we grew closer. We went out together, lots of pitch bonding. We got that part of the relationship right, we could talk about anything together. The partnership flourished because we talked about it. What to do in the situations, where he wanted me to go, what he preferred and things like that. If there were any trouble, the other one would try to help. I think that is right, it's about team-spirit. You got team-spirit, but within that you got your sub-teams if you like, that bond together. Players that will always sit together in the coach and a restaurant when you are away with the team. We bonded together and it became in the end a mental understanding where you knew with a look or a nod or a wink what was going to happen in the next movement.
KH: Compared to when you were playing, how is it these days with bonding for all the loan-players?
TA: I believe it must be very difficult, but I don't know because I am not in there. The team-spirit might be fantastic, but I don't think it can be as strong as it was because after we trained together, we then went to a restaurant and ate together. Two hours after training, we would still be together as well. Nowadays you got more commitments. A player might train, then after he might do an interview or a photoshoot. Or something else, an agent might have arranged something else for him, so all these commitments and the higher profile of the players these day, it's very difficult for them. And also multiple loan-players, it's difficult for them, because they want to bond with the team wich they're at, but they are rarely just going to cut off the team they came from and all their contacts and all their friends. Any player will be travelling across from the team they are on loan from, because there is no point buying a house for a month. It's just the way the game has developed. I don't think it's for a lack of passion or will to bond. I just think it's that all of us use all the minutes of our time now. That's probably the downside of technology to be honest. You can cram more in your hours. Is that a good thing or a bad thing? Less time for reflection, and reflection is important. To sit down and reflect on what you have done and on how you can do it better in the future. Rather than just keep doing things as they come up. You'll learn by the repetitiveness, you know, you are a teacher. There's ways of learning through repetition. Just keep doing it and eventually you'll get better. Or you can do something, stop, look back. How can I do it better, and then do it again.
KH: Apart from Deane, who did you enjoy the most playing with in your Blades career? And why? If you could name one or two players.
TA: I think there are a number of unsung heroes from that era. It's very difficult because unavoidably it is the people who scores the goals who will get the headline, highlights and the credits. But you can't do it without a Simon Tracey in the goal stopping it at the other end. You can't do it without John Gannon playing the ball where you know it's going to be played. Doing the things that leads to the goal, the assists. Now I see in almost every match, there are statistics on assists and things like that. That gives credit to the guys that do the work. They can even give you statistics on yards covered during a game. If we had all that back then, you would probably see a different picture. Yes, you will still see Brian Deane turning out on top of the goal scorer list, but you would see how much ground John Gannon covered in the games. See how many tackles, how many completed passes, see the complete picture. But we didn't have the capability or will to want to do that. It was points, and it was goals. They were the only two stats, they were massive back then. So all this information has helped the game, but it also has helped to put the spotlight on the key members, the real key members, of the team. We have painted out a whole different picture now, if we could do it retrospectively it would be really interesting. Obviously, you can't unless you have every single video of every single game. It would be really interesting to see. I am sure somebody somewhere has looked in to that. If I am forced to name a couple of players, I will have to give a lot of credit to Ian Bryson, from a personal perspective because he was playing in the balls that Brian and myself was feeding off of. I would have to give credit to Paul Wood, again strikers love wingers that can cross the ball. Both of those guys could do that and did it on a regular basis. It was really a numbers game, if they put enough crosses in, we would get plenty of goals.
KH: What do you like the most about being involved with the fans and visitors at the Lane?
TA: I think for me, I started my football career in the non-leagues playing part-time football and working as well. Playing in front of 200-300 people, the fans become part of the whole thing. I remember speaking to fans back then, and I remember their passion for the game. Their passion for their club have really struck me as something. If they have that passion, the least I can do is engage with really fantastic people. Replicate that a hundred times or a thousand times at a professional football club. I can't get around and speak to everyone, but I wish I could. Because I know how much it means to them, and because it means that much to them, it means that much to me. You know they are here because of their passion for Sheffield United Football Club, or passion about football in general. And I think that is great. Something that you are passionate about can put you through emotions, and highs and lows. It could be marriage or something, but you need passion in your life. And just know that, 20 years on since I last played, people still come and talk to me like it was yesterday. So when they're talking like that, it comes back to me and it's a fantastic feeling. Why any player wouldn't want to engage with his fans and supporter is beyond me.
KH: Everyone has a story, their story of when this or that happened.
TA: Absolutely, to effect someone's life in that way just by kicking a ball on a football pitch. But I do understand it, and for that reason I think I'll always be around the club and the fans and hopefully I'll have time to talk to them.
KH: What is the hardest part of going from pro-footballer to a civilian?
TA: You have to be able to adapt, be realistic about your future goals. It is important to have a plan, I didn't have a plan. It is difficult for players to plan while they are playing, because you think you will always be Peter Pan, and you'll always going to be able to play. It is a sport, a game at the end of the day. You want to play that game. The most difficult thing is that it does just stop. It is like a tap, you turn it on or off. Then there is no more water. I think a lot more players realise that now, and will be a bit more pragmatic. I got caught up in the romance of it, because that's just the way I am, or the way I was. It's difficult to come to terms with, but you do have to come to terms with it. You have to be realistic about what's coming next.
KH: Have you ever done any coaching badges? Did you at any point consider working as a coach or a manager when you retired?
TA: When I retired, that was the first thing I thought of. I did take my first C-license over at Scunthorpe, which is not far from here. I passed that, and when it came in the post I was looking forward to that. My first coaching badge. I opened the letter and they spelt my name wrong. I thought that might be a sign. That it might be an omen. I never registered for the second badge. Not necessarily because of that, but other things took over. Family, college, I was starting to enjoy the IT courses. The fact is yes, I did take my official badge. Alex Ferguson is about 150 years old, so there might be time for me yet.
KH: Have you seen the reserve or academy games this season, and are there any players there capable of taking a big step in the near future?
TA: Academy players are very hard to talk about, because you don't want to give away your jewels. But as it happens, this season so far I haven't been able to catch any games. I had some family issues I had to sort out, they were taking quite a lot of my time. But I do intend to watch the academy players because in the internationals this week, you see Phil Jagielka and Kyle Walker playing for the England first team. No matter what has happened in the last 10-15 years, you have to say that the academy is doing what it set up to do. If all else fails again this season, we have to look at that. That's working well, FA Youth Cup final last year. That means it is doing what it was set out to do. And it's a fantastic achievement and applauds for the academy set-up and staff should keep coming, because it is richly deserved.
KH: There are very good facilities at Shirecliff. They have everything they need and it's top notch.
TA: Absolutely, that should attract young players from around the region or country. Because it is a top-notch academy, you can see the results on the pitch for England. It is up there with the top academies, and you are more likely to go from academy to first-team football quickly than if you go to a Chelsea or a Manchester United academy, because they will always buy overseas players. They will buy the finished article more often than not. Go for the team that can't afford to buy the finished article, and all of a sudden you got a chance to play first-team football at a young age.
KH: I was very impressed with Kyle Walker in the game against Sweden. He was all over, everything he did was perfect. He did so much and is only 19 or 20. I sat there and felt very proud, because he has been here and developed as a youngster. I think he has been here since he was 8 years old.
TA: I think he will be back here one day. Maybe in the twilight of his career, when he leaves Barcelona or Real Madrid or wherever he ends up. He will be back I think. He is a big blade, I think it comes across that he is very passionate about this club.
KH: Sheffield United has a very good reputation for hospitality from a foreign blade's viewpoint. What do you think is the key to this? Why do the fans feels so at home when they are attending?
TA: We got that community spirit. The idea that the football club is owned by the fans, not by the owner. The owner is the man with the money, but even though Kevin has put a lot of his money in to the club, it's still that type of club where Kevin will pop in and say hallo. You see him walking around on the carpark talking to fans. He doesn't just stay in his ivory tower and look down on everybody. He is a fan, and he wants his club to be run that way. Be accessible. Football clubs are a big part of the community and that community spirit has to shine through. It is not a bank with a lot of doors and security guards. It's owned by the fans, without the fans, there is no football club.
KH: I remember coming here for the first time. I didn't expect to be welcomed the way I was. Everyone had their door open and took their time speaking with me. I felt I was sky-high.
TA: That's brilliant. That has always been the way this club was trying to be. A hospitable family club we call it sometimes, or a community club. It is just realizing it all through everything, all through the high-financed years. The way the games gone, it's still about the people. I think the day we loose sight of that, is the day we will be a very different club. I don't think we have ever lost sight of that in the time I have been associated with the club, and I don't think we ever will.
KH: Are the Blades going up this season?
TA: Are the Blades going up this season? The Blades are going up every season. Whenever there is hope, we should all rally around. Get in the mind-set that we are going up. There are a couple of ways to enjoy football, one is just enjoy the great results and one is enjoying the ride along the way. It will be a bumpy ride, with ups and downs. However, if you try to enjoy every moment of it, that positivity will transfer to the other fans and then transfer onto the pitch, and the players feel better about themselves. Then you'll get better performances. The whole point of the word club is about like-minded people wanting the same thing, working together toward the same goal. Football is fantastic because you can have opinions about each of the individuals, but you have to enjoy it along the way. I am a big one for enjoying the journey as well as the outcome.